Posted on August 31, 2011
Filed Under General | Comments Off

Andrew Harper's latest sweepstakes opportunity is a journey to discover a hidden gem. Burma is a spectacular jewel that has remained cloaked for decades, but which is now opening up to the world. Experience astonishing natural beauty and unparalleled cultural heritage, with a civilization that's more than 2,500 years old. Burma is a mysterious and magical land with magnificent temple architecture set in timeless landscapes. First, spend two nights at The Governor's Residence in Yangon, a colonial-style mansion dating from the 1920s. From Mr. Harper, "This spacious and extremely comfortable teak mansion is set in the diplomatic quarter, not far from the American Embassy's popular public library. It has one of the best formal dining restaurants in the city, a top-floor veranda that is perfect for a quiet read, and cozy guest rooms appointed with prayer scrolls and inlaid hardwood cabinetry."
Then, join the Road To Mandalay luxury river cruiser for four nights as you journey from Bagan to Mandalay. Explore Bagan, where the ruins of more than 2,000 temples and pagodas remain on the awe-inspiring plain. Enjoy watching local river life as you ply the waters of the Irrawaddy River, where magnificent sights await. Visit Sagaing, considered to be the living center of the Buddhist faith. Cruise to Mingun and enjoy a guided tour of Mandalay. Read Mr. Harper's full review of his experience aboard Road To Mandalay here.
Package includes:
• Two nights at The Governor's Residence, Yangon, based on two people sharing a Deluxe Room
• Four nights on-board Road To Mandalay cruising between Bagan and Mandalay
• All table d'hôte meals and accommodation on-board based on two people sharing a Deluxe Cabin
• Economy class internal flights • Transfers and sightseeing in Myanmar as shown in the itinerary
• A one-year Andrew Harper Premier Online membership
Package subject to availability, which may be limited. Non-transferable, no cash alternative.
Posted on August 30, 2011
Filed Under General | Comments Off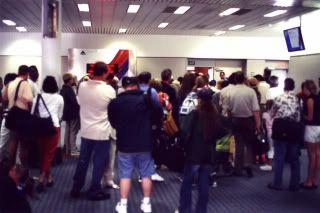 By: John Gobbels
MedjetAssist VP/COO
Boarding an airplane can be a bit like herding cattle. Passengers jockey to get better positions in line while the passengers on-board stuff suitcases that would never pass the pre-board sizing container into bulging overhead bins.
So American Airlines completed a two-year study on how to decompress this situation with some interesting results. The first strategy is randomized boarding – Travelers without elite status get assigned randomly to boarding groups instead of filing onto planes from back to front. If you want to avoid that and board early there is a fee for that, of course.
Nonetheless, the new system can shave three to four minutes off the average boarding time of 20-25 minutes.
American's study also showed that a major factor in delay was baggage. Seems more bags are being carried into the aircraft rather than checked (go figure) to avoid the fees. The study also showed that back to front slowed the process because only two people on average got to their seats at a time while everyone else stands and waits while filling up the forward cabin overhead bins with their luggage in an attempt not to get skunked when they finally reach their seating area. American ran simulations and found that boarding passengers in window seats first, followed by middle and then aisle was fastest. Seems both Delta and United already employ this seating scheme.
The most interesting boarding scheme that I always assumed was the slowest is actually the fastest. General Boarding! It seems multiple passengers got to their seats at the same time. Bins filled up more evenly in tests because people stowed bags where they were sitting not at the front of the plane. The process also proved calmer when tested in real flights. Who knew?
Unfortunately it seems that the only true way to get the seat you want is to pay for it!
Reference – The Wall Street Journal – Thursday July 21, 2011