Posted on August 28, 2009
Filed Under World Wide Will Adventures | Comments Off
Another early start this morning. We began the day meandering up a small tributary to catch some more wildlife. It was amazing. We saw more sloths and this time I was able to get some pretty decent shots because they were closer than they have been so far. And, I finally got a good if not great shot of a monkey. Trust me those little things are hard to catch on film. They move at incredible speed and are masters at hiding in the overhanging branches. We also saw a very rare bat falcon which I thought was very cool.
We docked the small skiff under the overhanging canopy of a large tree and ate the picnic breakfast that the crew had prepared for us. The food was good. We had pork sandwiches, scones, coffee and orange juice.  But, the best part was the troop of monkeys that came by to check us out. With their curiosity getting the best of them they came in close and surrounded us, jumping around from branch to branch.  It was hard to decide what I wanted to do more, eat or take pictures. I somehow managed a decent balance of both which was good seeing how hungry you get when your day is spent on excursion after excursion.
After we ate we got out of the boat and went for a walk through the jungle. We got some great shots of the local flora but I must admit the mosquitoes were a bit overwhelming. This was really the only day we had any real issues with them which is good because they were vicious. Our guide even broke out his hat with mosquito netting. Soon we being eaten alive by the tiny flies and no amount of Deet was helping. I couldn't help lamenting not having taken the guide's advice back in Iquitos and buying one of the hand held fans from the market. I wont make that mistake again.
On the way back to the main boat we stopped at a village and purchased some local crafts. There was everything from woodcarvings to necklaces to hand-sewn tapestries.  We had a lot of fun interacting with the locals and got some really good deals on very unique souvenirs.
Back on the main boat we put a couple of local Iquitena beers in the big freezer located on the observation deck and went into the dining room for lunch. When we finished our meal we retrieved our ice-cold beers from the freezer and replaced them with another round. The frigid beers cooled us from the inside out while recounted our morning and the days we had experienced so far. On the second round, we looked at our pictures, talked about what adventures lay ahead and speculated as to what the name of tonight's cocktail-hour band would be.
Suddenly, the now familiar sound of the activity bell brought us back to the present. It was time for another excursion. We had experienced a full day already and it was barely two o'clock. The shade of the observation deck and the promise of unlimited ice-cold Iquitenas tugged hard at our tired bodies but neither could overcome the excitement of being back out on the skiffs and racing up and down the river. So, off we went for another great adventure.
If you would like to see some pics from my adventure, click here and check out The World Wide Will Facebook page.
Posted on August 25, 2009
Filed Under General, Travel | 2 Comments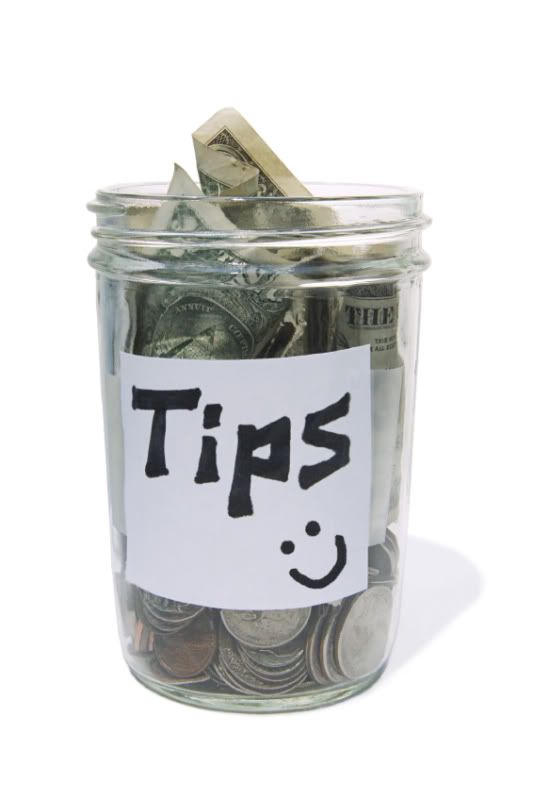 One of the things that I get most anxious about when traveling is how much to tip. I don't want to look cheap but I also don't want to unnecessarily over-tip either. So what is the balance and who gets a tip anyway? Well, here is who and how much I tip. And, I would love some feedback to see if I am on-base, off-base or if I forgot someone. I will start at the beginning of the trip:
The Club Lounge: From the bartender to the person checking on my upgrade chances or flight status. Good service and extra effort certainly earns a tip. Just because the services are free (well, free after your annual fee) doesn't mean that the people working there do not deserve a tip.
The Flight Attendant: If you are ordering a cocktail and they bring it to you and, for whatever reason, don't charge you for it then $2-$3 is a nice gesture. Same applies if the attendant helps you out with any special requests.
The Cab Driver: 10% +$1 a bag – This is if the driver takes a reasonable route and does not try and rip me off. If I am trying to make a flight or in a hurry or if the driver takes me on a local route to avoid traffic, 15-20% is worth it. Also, if this is the case, I get his card or cell number and ask if I can call him specifically while I am in town.
The Bellman: $1-$2 per bag. If I just have a couple of bags then I spring for a five-spot.
The Concierge: If I get a good one and I know I will need a lot of help during the trip I ask what their shift is and always go back to that person. Then I tip them $10-$15 on the first visit and that is usually it. If I just ask once for something simple, like where the closest convenient store is, I typically do not tip for that.
The Maid: $2-$5 a day with a thank you note and sometimes a request like, "More bath salts would be great if you can leave some additional." Maids always seem to be ignored and you would be amazed at the gratitude and extra attention even a dollar will get you.
The Server: 20% is standard for me. I may be behind the times on this and please someone tell me if I am. Poor service obviously decreases that tip and exceptional service, like special orders and such, earns a larger tip. And, if it is a large group and everyone splits the check, like 6-ways, I always add something extra along with a, "Thank you."
The Bartender: This depends for me. If it is one drink while I wait then it is typically a dollar. If I am running a tab then I treat it like a restaurant and go with 20%. That is, if the bartender keeps me a full glass. And, if you ever are lucky enough to get one of those fantastic bartenders that help pull you into a group and spiffs you a shot now and then an extra $5 on top of the tip is nice.
Keep in mind these tipping tips are for travel in the U.S. Different countries have different customs and expectations so educate yourself before you go. Frommers or Fodors are good sources for information on tipping abroad.
The World Wide Will
Posted on August 19, 2009
Filed Under Destinations, Travel | Comments Off
The days of traveling only to Disney World for a family trip are over, my friends. Americans are exhibiting a strong new trend with a not-so-new name, and it's called, "Family Travel."
In recent years more and more hotels and cruise lines have become 'kid friendly' – and not just the 3 – 4- star brands. The world's leading upscale properties are now saying, "Sure, you can bring your kids. In fact, we want you to bring your kids," with enticements that include half off adult rates for kids and sometimes not even charging for them at all!
Yes, the new era of travel is all about La Familia.
My daughter traveled on her first international trip at 9 months old to South Africa. Her next was a trek in Egypt at the age of 2. By the time she turned 5 she needed to get a new passport!
My husband and I embrace the travel experiences we are able to provide our children, and we feel that their global outlook is far beyond that of their peers as a result of them. Of course when traveling with children, you must remember that they are still kids, so it's important to keep their backpacks filled with entertainment. Thank goodness for the portable DVD and video games! (I wonder how my parents managed way back then.)  We are fortunate that today there is plenty for us to give our kids on an airplane to keep them (and therefore those around them) happy!
My top 10 Family Friendly destinations for 2007/2008:
1. London, England
The Goring Hotel, located in the heart of London, offers a family room, which means the parents are in a connecting bedroom that is easily closed off while the kids remain in close proximity, separated only by a private bathroom. Touring London with your kids is a treat simply because they will learn about historical landmarks such as Big Ben and Buckingham Palace at a young age.This will be fun for them to experience with you and remember first-hand when they are back in the classroom.
2.  The Galapagos Islands, Ecuador
Take your kids on a natural educational boating expedition off the coast of Ecuador, where they can snorkel, hike and kayak around these fragile islands filled with intriguing species – not to mention a visit to the Charles Darwin Research center. Lindblad Expeditions and Abercrombie and Kent are my two favorite operators in this area.
3. Lake Como, Italy
Even if you aren't guests of George Clooney's Italian Villa, you can feel like a celebrity while enjoying the celebrated standard of service and museum-like rooms of Villa D'Este. Set amidst an extensive park and gardens on the shore of Lake Como, this 18th century playground for Italy's aristocracy boats 3 pools – and one that's just for kids.
4. South African Safari
Mala Mala, a private reserve located outside the renowned wildlife haven of South Africa's Kruger National Park, is an ideal safari camp for families. You have to make sure your kids can sit on a game drive vehicle for 3 hours at a time. At the age of 4, we supplied my daughter with water colors and construction paper so she sat quietly at each animal sighting and painted what she saw. I was a bit concerned when we came upon two leopards mating, but I realized that she truly was taking in the experience when I saw that the entire page was colored orange with Black spots. To this day, she looks at her 'photo book' and can tell me what she saw when she painted each picture. An African Safari is definitely high on my list for family travel!
5. Vancouver, British Columbia
King Pacific Lodge offers a truly unique family experience – pampered luxury in the midst of the Canadian Wilderness. This floating fishing village, moored in Barnard Harbour on the Princess Royal Island in British Columbia, Canada, is one of the most exclusive resorts in the world. The 15,000 square-foot resort features 17 luxurious guest suites, including the Princess Royal Suite (1800 sq ft) and two Barnard Harbour Suites (850 sq ft), along with full dining and lounge facilities. In the heart of the Great Bear Rainforest, the setting for King Pacific Lodge is unspoiled nature, as far as the eye can see. Range after range of mountains, virgin forests, mountain streams and pristine lakes await. The lodge, open from May to October, offers one-of-a-kind wilderness experience packages for its guests to enjoy that include fly-in fishing, kayaking, spa treatments and more.
6. Los Cabos, Mexico
The One & Only Palmilla resort rests on the tip of the Baja Peninsula. Here, Pacific waters merge with the Sea of Cortez and sandy beaches offer unimpeded views of gray whales rising just beyond the crashing surf. This verdant oasis reflects the gracious style of Old Mexico with its red-tiled roofs, whitewashed walls, and idyllic setting of exquisite fountains, swaying palms, bird of paradise and other tropical bloom. A dedicated clubhouse presents kids with a wide range of activities that take advantage of Baja's natural outdoor beauty, leaving parents to enjoy quieter moments of solitude.  Other amenities for families include professional baby-sitting and nanny services, in-room video game equipment and a dedicated pool for children with waterfalls and a meandering river. Teen programs for golf, tennis, volleyball and soccer are featured during holiday periods. Rooms and suites for families offer connecting rooms with option of one king-size or two queen-size beds. Baby cots are also available.
7. Greenough, Montana
The Resort at Paws Up is a Rocky Mountain getaway situated along seven winding miles of the Blackfoot River, made famous by Robert Redford's coming-of-age classic, A River Runs Through It. More than 100 miles of trails wind through the immense property for horseback riding, ATVs, hiking and mountain biking. Guests also enjoy some of the country's best fly-fishing, as well as whitewater rafting, lake activities, kayaking, bird and wildlife watching, and sporting clay shooting. While the setting may be rugged, Paws Up offers five-star amenities and pampering usually reserved for fancy city slicker hotels: 300-count linens, heated granite bathroom tiles, private en-suite laundry rooms, flat screen TVs with satellite and DVD players, and DSL connections. Accommodations range from private, 2,600-square-foot Big Timber Homes to a fully renovated, 100-year-old farmhouse nestled on the bank of Elk Creek. Each is individually decorated in rich, yet rustic elegance. True outdoor enthusiasts may choose to spend a night along the picturesque Blackfoot River in a unique luxury tent, featuring feather beds, fine linens, artwork and all modern conveniences. Paws Up also offers a full-service spa, a fine-dining restaurant, a lively bar and bistro, live entertainment, a lake house with ski boat, jet skis, paddle boats and rafts, a children's club, meeting facilities and the largest private equestrian center in Montana.
8. Egypt
Can you remember the first time you saw a picture of the Great Pyramids of Giza? Having been to Egypt once a year for the past 20 years of my life, I can assure you that this amazing country is completely safe and welcoming to families. Every child should be fortunate enough to experience the historical and cultural sights of Cairo, followed by a cruise along the Nile and finishing in the resort town of Sharm el Sheikh, located on the southern tip of the Sinai Peninsula. My friends with Abercrombie and Kent will set you up at Four Seasons hotels throughout (I highly recommend the private plunge pool featured in the 1 Bedroom Suite at the Four Seasons in Sharm) as well as the friendliest and most knowledgeable English-speaking guides. Trust me, if you can expose your children to a country where civilization as we know it began, they will be talking about it for the rest of their lives.
9. Whistler, Canada
The AAA Four-Diamond Fairmont Château Whistler Resort opened in 1989 and is the largest all-inclusive resort constructed in Canada since the turn of the century. Situated at the base of breathtaking Blackcomb Mountain in Whistler, British Columbia, this 'resort within a resort' boasts its own sports facilities, full health club and spa and two mountains to explore. Just steps away: the European-designed, pedestrian Whistler Village, full of boutiques, restaurants, cafés and nightclubs – all just 75 miles north of downtown Vancouver. Each of the 516 rooms and 47 suites are beautifully appointed with down-filled duvets, fluffy bathrobes, TV with video checkout, on-command movies with video games, full bathroom with deluxe toiletries, mini-bars and windows that open to fresh mountain air. Year round golf, ski and spa packages offer something special for every member of the family.
10. Maui, Hawaii
Of course no compilation of family destinations would be complete without Hawaii! Let it be known that more and more families are visiting the Four Seasons Maui at Wailea. Located on one of Hawaii's best beaches, on the sunny, southwest shore of Maui, this award-winning resort is a gracious blend of Hawaiian elegance and tranquility. Luxurious accommodations, oceanside dining and a wide range of activities (including three championship golf courses, tennis, watersports and a complimentary "Kids For All Seasons" program) combine to provide the perfect escape. The brand new Spa, Game Room and pools with cabana seating are all set amidst lush gardens and azure Pacific vistas.
For those who fear that they may never be able to travel until the kids are grown up and out of the house, don't worry!  Your travel lifestyle doesn't end because of the pitter patter of little feet. Travel is one of the best components of a well-rounded education. My children are experiencing life in a completely different way than that of their peers as a result of their experiences abroad and exposure to other cultures. I encourage you share the world with your children – the portable dvd's and video games can still come along for the ride at no extra cost!
Posted on August 14, 2009
Filed Under Travel Warnings -- From www.travel.state.gov | Comments Off
The Department of State warns U.S. citizens of the risks of traveling to Israel, the West Bank, and the Gaza Strip, and about threats to themselves and to U.S. interests in those locations. The Department of State urges U.S. citizens to remain mindful of security factors when planning travel to Israel and the West Bank and to avoid all travel to the Gaza Strip. This warning replaces the Travel Warning issued January 15, 2009, to update information on the general security environment in Israel, the West Bank, and the Gaza Strip.
———————————————-
The Gaza Strip and Southern Israel
———————————————-
The State Department strongly urges that American citizens refrain from all travel to the Gaza Strip. This recommendation has been in effect since the deadly roadside bombing of a U.S. Embassy convoy in Gaza in October 2003. It applies to all Americans, including journalists and aid workers. American citizens should be aware that as a consequence of a longstanding prohibition on travel by U.S. Government employees into the Gaza Strip, the ability of consular staff to offer timely assistance to U.S. citizens there is extremely limited.
The Israel Defense Forces (IDF) strictly controls travel within the area of the crossing points between Israel and the Gaza Strip, and has essentially sealed the border. The security environment within Gaza and along its borders, including its border with Egypt and its seacoast, is dangerous and can change at any time.
From December 27, 2008, through January 17, 2009, the IDF conducted a major military operation in Gaza that included aerial and naval strikes, followed by large-scale ground operations. Israel and Hamas, a State Department-designated foreign terrorist organization that violently seized power in Gaza in June 2007, declared separate truces to end the fighting. Occasional small clashes continue to occur along the border. Rockets and mortars are still being fired into Israel from Gaza, and the IDF continues to conduct military operations inside Gaza, including airstrikes. The IDF has also declared an exclusion zone along the border with Israel and has taken lethal measures against individuals who enter it.
In the past, some rockets have travelled more than 40 km and landed as far north as Yavne and Gadera and as far east as Beersheva. As a result of possible IDF military operations in Gaza and the ever-present risk of rocket and mortar attacks into Israel from Gaza, U.S. Government personnel travelling in the vicinity of the Gaza Strip border, to include the city of Sderot, require approval from the Embassy's Regional Security Office.
——————–
The West Bank
——————–
The security environment in the West Bank has improved markedly since June 2007, with a significant increase in the number of trained Palestinian Authority security forces deployed to urban areas such as Jericho, Ramallah, Bethlehem and Jenin. Nonetheless, demonstrations and violent incidents can occur without warning. Vehicles have also been the target of rocks, Molotov cocktails and gunfire on West Bank roads. The Department of State urges Americans to exercise caution when traveling to the West Bank.
The IDF continues to carry out security operations in the West Bank. Israeli security operations can occur at any time, including arrest raids to arrest terrorist suspects that lead to disturbances and violence. Americans can be caught in the middle of potentially dangerous situations. Some Americans involved in demonstrations and other such activities in the West Bank have become involved in confrontations with Israeli settlers and the IDF. The State Department recommends that Americans, for their own safety, avoid demonstrations.
All those who pass through the West Bank should exercise particular care when approaching and transiting Israeli military checkpoints. Travelers should be aware that they might encounter delays and difficulties, and might even be denied passage through a checkpoint. American citizens should be aware that the ability of consular staff to offer timely assistance to U.S. citizens in the West Bank is limited.
——————————————————————-
Travel Restrictions for U.S. Government Personnel
——————————————————————-
American U.S. Government personnel travel extensively throughout the West Bank to carry out their official duties. USG personnel on official business travel more freely in the cities of Jericho, Ramallah, Bethlehem and Jenin due to the improved security situation there. Personal travel in the West Bank for U.S. Government personnel and their dependents is not allowed except for limited mission-approved purposes and in the areas described below. U.S. government personnel and family members are permitted to travel to Jericho, or to transit through the West Bank by using routes 1 and 90 to reach the Allenby/King Hussein Bridge, or the Dead Sea coast near Ein Gedi and Masada. They are also permitted to travel north on Route 90 from the Allenby/King Hussein Bridge to the Sea of Galilee. Use of these routes is approved for transit purposes during daylight hours, with stops permitted at only Qumran National Park off Route 90 by the Dead Sea. Each transit requires prior notification to the Consulate General's security office. Personal travel by U.S. Government personnel and family members to Jericho takes place only on certain designated days and requires prior notification.
U.S. Government personnel and family members are permitted both official and personal travel on Route 443 between Modi'in and Jerusalem without prior notification, during daylight hours only.
————————————-
General Safety and Security
————————————-
Israeli authorities remain concerned about the continuing threat of terrorist attacks. Two fatal bulldozer attacks on civilians in July 2008 and a March 2008 shooting, all in Jerusalem, and a February 2008 bombing in Dimona are reminders of the ongoing precariousness of the security environment.
In early January 2009, short-range rockets were fired from Lebanon into northern Israel.
American citizens are cautioned that a greater danger may exist around restaurants, businesses, and other places associated with U.S. interests and/or located near U.S. official buildings, such as the U.S. Embassy in Tel Aviv and the U.S. Consulate General in Jerusalem. American citizens are also urged to exercise a high degree of caution and to use common sense when patronizing restaurants, nightclubs, cafes, malls, places of worship, and theaters, especially during peak hours. Large crowds and public gatherings have been targeted by terrorists in the past and should be avoided to the extent practicable. American citizens should take into consideration that public buses, trains, and their respective terminals are "off-limits" to U.S. Government personnel. U.S. Government personnel have been directed to avoid protests and demonstrations. Personnel have also been urged to maintain a high level of vigilance and situational awareness at all times.
The State Department urges American citizens to remain vigilant while traveling throughout Jerusalem, especially within the commercial and downtown areas of West Jerusalem and the city center. Spontaneous or planned protests within the Old City are possible, especially after Friday prayers. Some of these protests have led to violent clashes. The Old City of Jerusalem is off-limits to U.S. Government personnel and their family members after dark during the entire week and between the hours of 11 a.m. and 2 p.m. on Fridays.
—————————
Entry/Exit Difficulties
—————————
The Government of Israel considers American citizens who also hold Israeli citizenship or have a claim to such dual nationality to be Israeli citizens for immigration and other legal purposes. For example, an American citizen child of an Israeli parent will be considered an Israeli citizen by Israeli immigration officials and Israeli law will apply to the child's travel to, and departure from, Israel.
American citizens whom Israeli authorities suspect of being of Arab or Muslim origin are likely to face additional, often time-consuming, and probing questioning by immigration and border authorities, or may even be denied entry into Israel. If they are determined by Israeli authorities to have a claim to residency status in the West Bank or Gaza, or to have a claim to a Palestinian identification number, such American citizens may be required by the Government of Israel to use a Palestinian Authority travel document to transit Israel to enter the West Bank or Gaza. Such a determination could be made for American citizens if they or their immediate family members or grandparents were born in the West Bank or Gaza, currently reside there, or lived there for any appreciable amount of time.
American citizens who hold a Palestinian Authority ID, as well as persons judged by the Israeli authorities to have claim to a Palestinian Authority ID, will be considered subject to Israeli law and to regulations that Israel applies to residents of the West Bank and Gaza, regardless of the fact that they hold U.S. citizenship. A Palestinian ID number might be active or inactive. If active, the Government of Israel may stamp the Palestinian Identification Number in the U.S. passport, and the American citizen may be required to obtain Palestinian Authority travel documents prior to departing Israel. In addition, American citizens having or eligible for a Palestinian Authority ID who entered Israel via Ben Gurion Airport might be required to depart via the Allenby Bridge to Jordan. Upon arrival, such persons may wish to consider asking Israeli immigration authorities from where they will be required to depart. Additionally, American citizens who have (or who are eligible to receive) a Palestinian Authority Identification Number are likely to be refused entry to Israel via Ben Gurion Airport and told that they must enter Israel from Jordan via the Allenby (also known as King Hussein) Bridge.
In June 2009, the Israeli government began selectively limiting certain travelers to either the occupied territories of the West Bank and Gaza, or to Israel and Jerusalem. To date, the Israeli government has not provided information about which categories of travelers can expect to be subject to these restrictions. Nonetheless, Israeli border officials at Ben Gurion Airport began requiring certain travelers to sign a form that states s/he is not allowed to enter territories controlled by the Palestinian Authority unless s/he obtains advance authorization from the Israeli "Territory Actions Coordinator," and that violating this restriction may result in the traveler being deported from Israel and barred from entry for up to 10 years. At the Allenby Bridge crossing, as well as at Ben Gurion Airport, Israeli border officials also began using a new entry stamp for certain travelers that states "Palestinian Authority Only." Since travelers entering via the Allenby crossing must transit Israeli checkpoints and Israeli-controlled territory to reach Jerusalem or Gaza, this restriction effectively limits travelers who receive this stamp at Allenby to destinations in the West Bank only. This stamp has been known to be used even with travelers who have no Palestinian or other Arab ancestry, and who would not seem to have any claim to a Palestinian Authority ID.
The United States Government seeks equal treatment for all American citizens regardless of national origin or ethnicity. American citizens who encounter difficulties are encouraged to contact the U.S. Embassy in Tel Aviv or the U.S. Consulate General in Jerusalem at the telephone numbers below.
Americans in Israel, the West Bank, and the Gaza Strip are strongly encouraged to register with the Consular Sections of the U.S. Embassy in Tel Aviv or the U.S. Consulate General in Jerusalem through the State Department's travel registration website, https://travelregistration.state.gov. U.S. citizens who require emergency services may telephone the Consulate General in Jerusalem at (972) (2) 628-7137, after hours (for emergencies): (972) (2) 622-7250, or the Embassy in Tel Aviv at (972) (3) 519-7575, after hours (for emergencies): (972) (3) 519-7551.
Current information on travel and security in Israel, the West Bank, and the Gaza Strip may be obtained from the Department of State by calling 1-888-407-4747 within the United States and Canada, or, from overseas, 1-202-501-4444. For additional and more in-depth information about specific aspects of travel to these areas, U.S. citizens should consult: the Country Specific Information for Israel, the West Bank and Gaza; and the Worldwide Caution . These along with other Travel Warnings, Travel Alerts and Country Specific Information are available on the Department's Internet website at http://travel.state.gov. Up-to-date information on security conditions can also be accessed at http://usembassy-israel.org.il or http://jerusalem.usconsulate.gov. Additionally, Americans are encouraged to sign up to receive security-related information from the U.S. Embassy in Tel Aviv via email at the following link: http://telaviv.usembassy.gov/consular/acs/index.aspx.
Posted on August 12, 2009
Filed Under Travel, Travel Products | Comments Off
By Helen at Paris Ambiance.com
For years, we traveled to Europe booking our favorite 4-star hotels. Occasionally, we ventured out and tried a new hotel or a different area of the city. But as I have always thought, "If it's not broke, don't fix it." Yet, times changed and our family grew. Our one $400 room would no longer fit everyone, so we added another now $450 room. We were constantly concerned that the children's room be as close to ours as possible (though they were certainly growing up and did not share our concern.)
Our travel style began to change as well. Instead of continuing to be the stereotype American tourists who cram as many cities into a week as possible, we began staying longer at each destination and thoroughly enjoying each city. On a recent visit to Paris, we sympathized with a couple who breathlessly were trying to take it all in. The husband had surprised his wife with a well-planned trip to Europe – a different city every day!
In the midst of all our travel style changes, we discovered Paris apartments. What a discovery it was!  For almost the same price as one of our small hotel rooms, we could have a beautiful two-bedroom apartment. No longer did we have to get dressed and rush down to breakfast, we had our own full kitchen to eat whatever and whenever we wanted. Later, as we traveled with other couples, it was nice to share an apartment with a lovely living room to sit and discuss all the adventures of the day.
Since then, we're sold. As long as we are staying at least 5 days, we book an apartment and live like a Parisian, a Londoner…  We have discovered our own favorite areas, usually the ones that make us feel like we have our own little niche in the city. From luxurious to charming, each apartment is different.  Many offer the usual amenities of home; so much so, we are never ready to leave!

Today, inspired by their experiences, Helen and her daughter, Elizabeth, have their own company that offers Paris apartments to travelers. Paris Ambiance lists apartments for owners and managers with no additional charge to renters. It's your chance to live like a Parisian!
For a limited time, Helen is offering her e-book travel guide, A Paris View, to all World Wide Will readers. Visit www.ParisAmbiance.com to make your requests for a free copy.