Posted on October 24, 2008
Filed Under From the Front Lines, Travel, Website Tips | Comments Off
From the Front Lines

is a World Wide Will exclusive series of best travel tips from the people who make travel what it is, the ones on the front lines. People like Anne Dimon who is founder/editor of TravelToWellness, the online magazine for the wellness-minded traveler.  She is also an industry spa journalist and wellness-travel writer contributing to print publications in the U.S., Canada, the U.K. and Asia. Anne is also the "spa expert" for TravelingMom.com.  And, as far as we know, she is the only professional travel writer to have her own line of travel fashions, www.arrivez.com.
12 Tips for Proper Packing
Traveling is like the journey of life. You don't want to make either trip with too much baggage. As a freelance spa and wellness travel writer and editor of an online-magazine, it seems as if I'm always returning from a trip, on a trip or planning one. In fact, as I write this I'm just recently back from Quebec and Montreal and planning to fly to Nassau, Bahamas next week.  Consequently, it seems as if I'm always packing or unpacking.  As any frequent traveler will tell you, when it comes to luggage, a carry-on is the preferred way to go whenever possible. Not only does it save you time (no waiting at the luggage carousel) but it eliminates the chance of lost luggage and you don't end up carting around a lot of stuff you don't need.  The trick is to pack light.  Here are a few packing tips I've gathered on my journeys:
1. Before leaving for any destination, check with weather.com for expected temperatures, and if the forecast calls for rain – throw in a travel-size umbrella or a lightweight raincoat. The kind that packs into its own pouch is best.
2. Think layering. Tank top if it's hot; tank top and matching sweater or wrap if it's cool;  tank, sweater and coat with wrap on top if it's cold.
3. Take a coat or cropped jacket or shawl that goes with everything from jeans to evening wear.
4. Make sure that every piece of clothing that goes into your carry-on does double duty meaning you can wear it more than once.
5. For major pieces it's best to stick with solid colors and classic styles. You can break up the monotony with colorful scarves, accessories and tops.
6. Stick with two or three basic colors that easily mix and match.
7. Because they take up so much room shoes can be a problem. Don't take a brown outfit and a black outfit if it means you need to pack two pairs of shoes. Instead, buy one pair of great two-tone shoes or faux animal skin with tones of both colors. Alternatively, buy one great pair of dress shoes in a color that will go with everything – red or copper are good choices. Unless you're taking along a pair of hiking boots (which would look ridiculous at the airport), wear your heaviest footwear on the plane. You can always remove once you're comfortably seated and put on the comfy socks you've stashed in your purse.
8. Tuck underwear, extra socks and small items into shoes.
9. One or two fabulous belts can really punch up a monochromatic look. Make sure belts are lightweight (chunky metal can add pounds to your carry-on and could cause you to exceed the weight limit). To pack, wrap belts around the inside of the carry on, or wear one on the flight .
10. Most hotels now have hairdryers so you don't need to pack yours. If in doubt call ahead. What they DON'T stock – even the 5-star hotels – is a diffuser, so if you need one take a one-size-fits-all so it will work with the hotel's hairdryer.
11. Take along a light solid-color, sturdy fabric bag that folds easily into your carry-on. You can use it for the beach or to bring back those little extras you couldn't resist buying. Since most airlines only allow two carry-on bags per person, make sure it's big enough so you can also put your purse and/or laptop into it.
12. Pack travel size cosmetics or transfer creams and lotions into travel-size containers. Select carefully and don't take things you don't need – a large tube of exfoliating gel for instance.
If you can learn to get by on less when traveling you will enjoy the trip a whole lot more. Trust me.
Posted on October 6, 2008
Filed Under Medjet, Safety, Travel, Travel Products | 17 Comments
A Letter From the President
By: Roy Berger, President/CEO – MedjetAssist
About a year ago in this space we did a comparison between the transport benefits of MedjetAssist and the American Express Platinum card and drew more positive member response than anything previously written.
So please indulge me for a moment as I try to resurrect those thoughts and perhaps add a new angle or two.
I can't tell you how many times I have heard  'I carry the American Express Platinum card or I purchased travel insurance so I don't need MedjetAssist, right?'  Wrong.
At Medjet we hear that over and over again and when we take a few minutes to explain the difference between Medjet membership as compared to standard travel insurance, it's amazing the reactions we receive!
The difference can be summed up in two words- evacuation vs. repatriation. Or going to strange and unfamiliar surroundings vs. going home.
Amex Platinum is a fine program. I carry a Platinum card and use it primarily for the airport club privileges (Delta, Northwest, Continental) and on a rare occasion will use the concierge benefit.  And travel insurance certainly plays a role when going on an exotic holiday or perhaps a cruise especially when you might need the trip cancellation and lost luggage benefit.
However, what Amex Platinum and most standard travel insurance will not do is get you home if you are sick or injured and hospitalized while traveling.  That's where being a MedjetAssist member pays dividends!  Amex (and most standard travel insurance) will evacuate you to the closest appropriate medical center for treatment and that concludes the benefit.  They make the call on where to take you.  Under most circumstances they will not take you home.
MedjetAssist will.  As a benefit of membership you make the call on where you want to go for your extended care and treatment.  Most times our members want to go back home to their network of personal physician and family support.  This is repatriation and that's what we do!  The decision on where you want to go is yours and yours alone as long as all transport criteria is met.
And don't discount the MedjetAssist domestic transport benefits.  As long as you are over 150 miles from home- international or domestic- your Medjet membership is valid.  We do almost half our transports domestically.  Amex Platinum and virtually all travel insurance policies will not transport their members in the United States. And internationally, their physicians must deem it 'medically necessary and advisable due to inadequacy of local facilities'  before you get evacuated and then it is most likely to the 'closet appropriate medical center' as their language is wont to state.  No such provision in your Medjet membership- as long as you meet inpatient criteria and you want to go back home, then home is where you are headed!
While on the subject of travel insurance; of course, a major travel insurer has been in the news lately making headlines I'm sure they would just as soon see go away in exchange for a solid balance sheet.  If you are looking for a travel insurance supplement for lost luggage or trip cancellation or even evacuation to get you off a cruise ship (and your Medjet benefit then begins at port) we have a good working relationship with the folks at Travelex and you can take a look at their product offerings at www.travelexinsurance.com.
Amex Platinum and standard travel insurance provide some fine benefits and we can endorse each of them based upon specific need. The comparison chart below does a fine job in spelling out the differences.  However if true 'peace of mind' is what you are looking for whenever you leave home, then the MedjetAssist program is the one that will get you back into that comfort circle should the unexpected happen anywhere in the U.S. or throughout the world.  You can count on us!
| | | |
| --- | --- | --- |
| Know Before You Buy | Medjet | Platinum Card |
| Member transported regardless of medical necessity | Yes | No |
| Member determines which medical facility to be moved to | Yes | No |
| Transport to the closest appropriate medical center for treatment concludes the benefit | No | Yes |
| Transport is contingent upon member not traveling against physician's advice | No | Yes |
| Transport is contingent upon the member not traveling with a pre-existing condition | No* | Yes |
* For travelers under the age of 75
Posted on October 2, 2008
Filed Under Johnny Jet, Safety, Travel | 16 Comments

Airplane Etiquette
By: Johnny Jet
John E. DiScala (a.k.a. Johnny Jet) travels over 150,000 miles and visits over 20 countries each year. He and his website JohnnyJet.com have been featured over 1,000 times in major publications. Every week, Johnny hosts a "travel website of the week" for several radio stations around the country and he writes weekly for Frommers.com.
As I write this, I'm flying over Detroit on my way to New York from Los Angeles. I've decided to write about airplane etiquette because more than a few things have irked me on this four and a half hour flight. For starters, I'm sitting in the first row of economy and the pilot just got on the PA and requested everyone to take their seats and put their seatbelts on, including the flight attendants.  So you know we're about to go through some rough air. Well, what do you know? Just a minute later, a line for the bathroom, which is right in front of me, forms.  It's longer now than it has been the whole flight.  What the heck?! This doesn't make any sense and a flight attendant just got on the PA to reiterate the instructions. But passengers still aren't listening.
Listen up, people!  I dated a flight attendant for four years and I believe I know what bothers them most. Not listening to crew instructions has to be their number one pet peeve; it's also a felony offense.  As the announcement stated, the seat belt sign isn't on just for your safety, but for the safety of others around you. If one of those people had landed on me when the plane hit an air pocket, you know I would have given them an extra elbow, just to knock some sense into them.
Turn down The Music
Another annoyance on this flight: excessive headphone noise. Yes, we've all experienced it — on the subway, on the bus and now on the plane.  Everyone in the world seems to have an iPod and some just don't have a clue how much noise the earbuds emit.  I'm seated in 19A and the dude in 19F, six seats and an aisle away, has his music so loud that I can hear every beat. Unfortunately, he's listening to heavy metal, which I don't care for so it's really annoying and, I might add, rude.  If he wasn't three times my size and didn't have that gangbanger tattoo on his elbow and cheek, I would just get up and slap him.  But instead, I gave him the ol' stink eye and it looks like we now have a date to rumble when we land.  Be aware, will you?
Easy Does It
It really amazes me how much travelers lack common courtesy these days.  If it's a short flight (three hours or less), I rarely ever recline my seat because space is already limited. The only time I do lean back is when the person in front of me reclines. Then, before I recline, I turn around and give a heads up to the person behind me, letting them know that I'm about to invade their personal space.  As a frequent laptop user, I appreciate when the person in front of me allows me the time to adjust my laptop so my computer screen doesn't get wedged and break. TIP:  Another tip regarding laptops is to always close them when drinks are being served because spills happen.
Be Friendly
Other notables: When you take your seat for the first time, smile and say hello to your seatmate. If the person beside you is chatty and you don't want to be, then immediately put your headphones on, even if you don't want to listen to music. This indicates that you aren't interested in idle chitchat and they'll get the message.  If they don't, just explain that you've had a long day and you want to get some sleep, catch up on some TV, finish your book club book or whatever excuse suits you.
Don't Pull Hair
When getting up to use the loo, don't push or grab the seat in front of you in such a way that you wake the person seated in it or worse, pull on their hair. I barely even have any hair and this has happened to me many times! It not only startles me but makes me want to pay the guy in 19F to, well you get the idea… Again, just be aware!
Middle Seat
We all know the most unpopular seats on the plane are the middle seats. And in my experience, it's rarely filled by a solo female traveler who is pretty, or a passenger who is in good shape with pleasant body odor. When the plane is full, which is typically the case these days, and some poor soul gets stuck in the middle seat, it's common knowledge that they get both armrests. So don't try to elbow them for space … even if they are smelly.
Don't Spread Germs
If you need to cough or sneeze, cover your mouth!  The flying tube is already infested with germs from the re-circulated air and we don't need any more nasties flying around. Just cover your mouth or better yet, wear a mask like the Japanese do when they're sick.
Wear Shoes to The Bathroom
I'm a male and I realize how messy we men can be when using the loo.  Maybe if the aircraft toilets had a bulls-eye, we would aim better. If you haven't noticed it by about 20 minutes into the flight, the bathroom floor is already in bad state. Personally, I think airplanes should have male and female bathrooms not only because then we wouldn't have to wait so long in line, but also to be more considerate to women because they don't miss.  For the men out there with bad aim … tidy up before leaving and always be sure the bathroom doors are closed behind you!
No McDonalds
Yes, the airlines are all cutting back and some don't even offer food on board (jetBlue is one of them).  If you are going to bring food on the plane, which I suggest you do, try not to bring anything hot or smelly like McDonald's. Though it smells good in the airport, it won't when you are 37,000 feet up.
Cell Phones
Turn your cell phone off when you're told to. We hear you sneaking your last minute calls while taxiing down the runway.  More importantly, don't speak so loudly that everyone can hear you. My dad is almost deaf and I can still talk to him without letting the passenger next to me hear what I'm saying. If this annoys you, too, a solution is to bring earplugs and/or noise canceling headsets.
Everything above should be common sense but you'd be surprised … it's not. So, here's a list of other common courtesies gone bad.
Boarding
When you come cruising down the aisle to take your seat, try not to take seated passengers out with your swinging backpack or purse.  Also, how difficult is it to put your bags in the overhead compartments correctly and quickly?  The moment you find your seat, throw whatever you need (iPod, newspaper, food) on your seat and then put your bag up wheels first and sit down.  Don't decide when you get to your seat to go hunting for your glasses, pen or magazine once you've stowed your luggage up above, because then you're just blocking the aisle. Have everything ready when you're in the gate area.
Miscellaneous
Snoring also bothers many passengers but that's a tough one to deal with it. Earplugs do the trick for me but if it's really too loud, I rip a string off my baggage tag and tickle the person's neck so they wake up. Of course, I only do this while no one else is looking. Window shade: If it's a night flight, lower the window shade so when the sun comes up in the middle of the flight no one is disturbed; I bring eye shades to prevent this. And finally: For that kicking kid sitting behind you … if the parent doesn't get the stink eye, try to make friends with him by bribing him.  Five dollars often does the trick.  But I know you'd rather give him and his parents a swift kick in the !!!
Finally, in today's flying environment, no one is more stressed out than the flight attendants and gate agents. Their pay and their benefits have been cut and they often take the heat from passengers, like it's their fault. I see so many passengers taking their problems out on these people. Instead, be very kind to them and the gate agents. I almost always bring them a box of chocolates and a smile.  They are always appreciative and will make my flight as pleasurable as can be. Besides, I might need them to help me take out the gym monkey in 19F.
Happy Travels!
Posted on October 1, 2008
Filed Under Safety, Travel, Travel Products | 3 Comments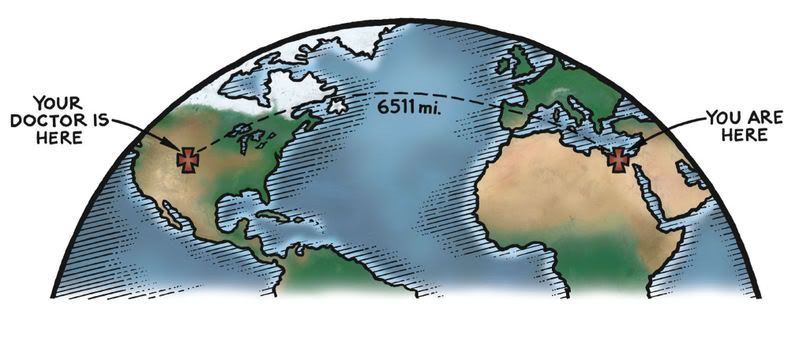 Health & Safety Tip
By: John Gobbels, Medjet VP/COO
Accidents or illnesses can happen to anyone, anywhere, here at home or overseas. The key to being prepared is remembering that safety begins before you leave for your trip.  Being prepared means making sure you have the proper travel insurance and the proper air medical evacuation protection so that you can come back to your hospital of choice in the event of a medical emergency.
As simple as this sounds, the United States Travel Insurance Association (USTiA) recently released a study showing that less than 50% of U.S. citizens traveling abroad purchase travel insurance and/or travel protection. However, according to the same USTiA study over 50,000 Americans had to seek medical treatment overseas last year. So what happens to those who are not prepared?
For those who do not have air medical evacuation protection, the bullets below illustrate typical air-medical evacuation costs they could possibly incur if ill or injured while traveling. The numbers below are based on actual costs of past transports for Medjet members and represent what that traveler would have had to pay were they not Medjet members.
Cancun, MX – New York, NY: $30,000
Naples, FL  – Minneapolis, MN: $25,000
Quito, EQ – Chicago, IL: $50,000
London, UK – New York:  $75,000
Paris, FR – Atlanta, GA:  $70,000
Sydney, AU – New York, NY:  $155,000
So what can you do to be prepared? First, educate yourself on the difference between Travel Insurance Plans and Travel Assistance Memberships. Then make sure that you properly protect your family and the financial investment of your trip. Here is a good side by side comparison of the two and why each is important to have.
Travel Insurance Coverage – A pure insurance policy generally purchased per trip for:
•    Protecting the financial investment through trip cancellation/interruption
•    Providing limited medical evacuation benefits if any
•    Providing replacement of lost/stolen luggage
Travel Assistance Membership – A membership such as Medjet that is purchased generally on an annual basis for:
•    Medical evacuation & repatriation
•    Medical consultations, medical referrals and return of mortal remains
•    General travel assistance
Before your next trip make sure that you plan properly. Spend just as much time, if not more, making sure you are protected as you do planning where you are going to eat dinner or what sights to see. If the unexpected happens you do not want to get caught unprepared. You need to have a plan in place so that you can relax and enjoy your time away because you have the peace of mind that comes with knowing you are ready for anything.