Posted on August 27, 2008
Filed Under Gadget Alert, Johnny Jet, Travel, Travel Products | Comments Off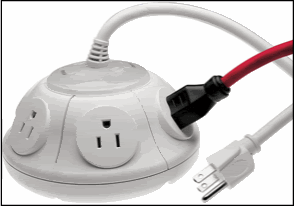 Both myself and Johnny Jet have spoken to the value of traveling with a power strip. This rendition of the traditional powerstrip looks to be a perfect fit for travel.
The 6-Outlet Power Pod
Unlike awkward power strips that won't lay flat when power cords exert their pull, Power Pod's round stable shape, wider at the base than at the top, can't be pulled over.Slanted facade lets you use the least amount of space to plug in large, awkward power transformers – without blocking adjacent outlets. Built-in surge protection circuitry puts 420 joules of surge defense between sensitive electronics and damaging power spikes. Six outlets; 5-foot power cord.
If you are interested you can find it online at this link for $34.95 – http://www.herringtoncatalog.com/t476.html.
The World Wide Will
Posted on August 27, 2008
Filed Under Destinations, Travel | 2 Comments
Medjet Travel Assistance Tip – When I was fifteen years old my mother and father sent me off on my first solo adventure: a ski trip to Aspen. Needless to say, I was thrilled. Also needless to say, my parents were horrified. Not just concerned for my safety, mind you – I have always been scrappy and wise in the ways of travel. They were worried about my rapidly developing taste for fine foods and the subsequent impact of such on their bank account.
So Mother, having a taste for the finer things herself, gave me my very first travel tip. It was brilliant and I use it to this day.
"Will," she said in her soft Southern drawl, "understand you can't afford dinner at all the places that we ate at when you went last year with your father and me. You will need to be smart about it. Go to any restaurant you want but instead of ordering a meal just get a small appetizer and a Coke. You can do this several times a day and you will be just fine. This way you will get to eat at all of the fun places, even if it is just a small bite."
One week later, there I sat, alone, at the Purple Onion's bar with an order of fried mushrooms and a Coca-Cola. I was chatting up the bartender and watching the celebrities and well-to-dos starting up what promised to be a long evening of the best Aspen had to offer. I ate sushi for the first time on that trip and I also realized I did not like terrine pate – at all. I also learned to enjoy eating alone and overcame my crippling shyness.
I follow Mother's advice to this day. Sure, I typically eat an entire meal at a restaurant. But whenever I am in a new town, particularly one that is walkable, I will drift from restaurant to restaurant sampling appetizers and taking in some adult beverages. I have literally spent an entire day eating and drinking my way up Las Olas Boulevard in Ft. Lauderdale. And, might I say, it was FANTASTIC.
So every time I stop and have a chocolate crepe and a glass of red wine at that little shop on St. Germain or snack on a piece of fresh grilled lobster and a beer at the beach off Oronos Bay I think of Mother's advice and I always send a toast her way.
By the way, the picture at the beginning of this is of a stuffed artichoke from Central Grocery in New Orleans, one of my greatest finds while eating my way through a city. They are less than five dollars and absolute heaven. I buy one every time I go back now (along with a bottle of wine) and I sit on the bank of the river and listen to the steam boat Natchez play its odd tunes.
Thanks Mom!
The World Wide Will
Posted on August 19, 2008
Filed Under General, Health, Medjet, Safety, Travel, Travel Products | Comments Off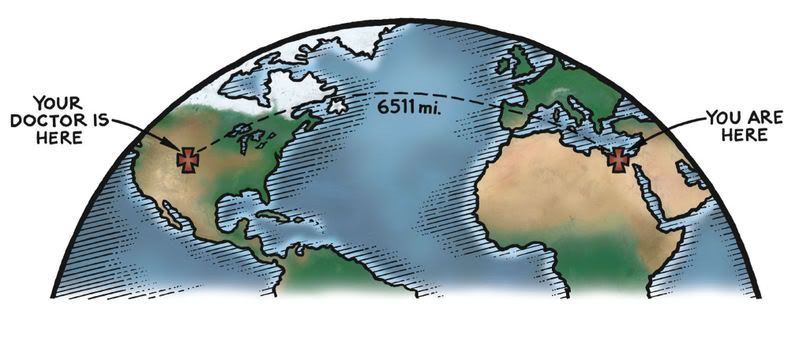 By: Roy Berger, MedjetAssist President/CEO
That collective sigh of relief you just heard is the MedjetAssist transport operations department taking a deep breath.~  Whew, July has finally ended as the busiest transport month in the 10+ year history of the present Medjet ownership-management team. 
While our transport records are proprietary, trust me when I tell you there were many sleepless nights and hours of telephone calls and consults during the month just past.  In fact you can find a partial listing of transport city pairs in the chart below.
The Medjet transport team is headed by VP/COO John Gobbels who brings years of practical air-medical transport experience to our organization and in fact joined Medjet from STAT MedEvac, the air-medical transport arm of the renowned University of Pittsburgh Medical Center (UPMC).  John is joined at Medjet by Director of Transport Operations Jeff Sayers, who also came from the UPMC organization.  The Birmingham transport administrative team is composed of Whitney Kerr, April Jeff and Mona Roy.  And of course the package is neatly filled out by our communications center staff and our physician group at the University of Pittsburgh Medical Center, as well as the University of Alabama Birmingham's own Dr. Chris Rosko, our Medical Director.
Don't take my word for the experience, expertise and 'bedside' manner of our professional staff.  We can produce letter after letter of testimony on what a great job our professionals did for our members!  And frankly, that's what our business is about.
Don't misunderstand.  Statistics will show that a very large percentage of us who travel will go on with our journey and arrive home safely, that of course is our goal.  Then there are others that have a minor scrape or perhaps a jittery stomach or the like who will phone us for a recommendation or two.  We are glad to help.
Then we have our share of members who indeed wind up hospitalized, in-patient status and put us on alert.  A good majority are released a day or two later and continue their journey or head home.  They are needless to say thrilled to be back on their feet!
Then there is the group- never larger than this past July- that for either medical or accident reasons will need to avail themselves of the Medjet service.  Remember, transport criteria is in-patient to in-patient.  You must be admitted at least 150 miles from home and then require in-patient status back at your home hospital or hospital of your choice.  Once that criteria is met our team of transport professionals truly drop whatever they are doing at the moment and focus on your case. Safety and comfort become our priority.  Let's hope you never get there but if you do I'm sure you will share the pride in our team that I do!
So as we concluded July- which not so coincidentally is also the busiest travel month of the year- make sure you take a look below at some of our transport city pairs.  And remember – we are here for you- our member.  Sick, injured or hospitalized – we await your phone call.  On the road, away from home and a bit under the weather? Just need some reassurance or perhaps a medical center recommendation – be happy to help.  Just give us a call~ 
Travel safe.  However, if you need anything – down to the smallest travel tip or piece of advice, we stand ready to help. That's what your membership is all about!
Roy Berger, President/CEO      
July 2008 City Pair Sample
| | |
| --- | --- |
| | |
| Aspen, CO  | Philadelphia, PA |
| Cannes, France | San Francisco, CA |
| Ashville, NC | Los Angeles, CA |
| St Vincents Isl. | Denver, CO |
| Duluth, MN | Maineville, OH |
| Albuquerque, NM | New York City, NY |
| San Juan, PR | Benito, TX |
| Calgary, Alberta | Highland Park, IL |
| Aspen, CO | Houston, TX |
| Berlin, Germany | San Diego, CA |
| Rochester, MN | New York City, NY |
| Durban, SA | Boston, MA |
| Las Vegas, NV | Pendleton, OR |
| Soldotna, AK | Co. Springs, CO |
| Jacksonville, FL | Clearwater, FL |
| Liverpool, UK | Naperville, IL |
| Lennox Hill, NY | White Plains, NY |
Posted on August 18, 2008
Filed Under General | Comments Off
By John Gobbels, MedjetAssist VP/COO
In the spirit of great health and safety tips I would like to take a moment to talk to you about what we see as the best travel tip of them all, Medjet. In particular I want to talk about how our system works and impart a good understanding of some very important administrative processes.
"Making the call"
This is the most basic task our members have to undertake. Medjet has a 24/7 communications center standing by to take a member's request for transport or a simple referral. Members located within the United States can call 1-800-527-7478. Any member located outside the United States can call collect at (205) 595-6626.
On occasion, we have members in need that attempt to contact us via email. Just remember, our emergency response system is not set up for emailed assistance requests. So, emailing a MedjetAssist staff member or the INFO@medjetassist.com email will delay a response. Something you do not want to experience in a medical crisis. 
"Change of Address"
Attention Snowbirds. As a requirement, transport from a medical facility to the member's hospital of choice requires that the member be at least 150 miles from their registered home address on file. At times, we have members who reside in different locations during the membership period and call to make changes to the address on file.
When you want to change your mailing address to have membership materials or other correspondence sent to your new location, be mindful of the 150 mile requirement. For instance, if you reside in Florida in the winter and change your address to your summer home in Illinois, you would need to be greater than 150 miles from that new address in Illinois to qualify for a transport. So think about where you would ultimately want to get back to and make that your primary membership address.
"You're in charge of your healthcare, BUT we're in charge of making the arrangements"
It is important to remember that MedjetAssist is a membership program for travelers and not an insurance plan or policy. So, there are no claim forms or deductibles for our members to hassle with. However it is also important to remember that because we are not insurance, MedjetAssist cannot reimburse members for expenses incurred that were a result of the member making transport arrangements themselves. We have a highly skilled team ready to serve our members in their time of need. One call does it all. Let us make the arrangements!
Posted on August 9, 2008
Filed Under Travel, Travel Products, Website Tips | Comments Off
If you relate with the headline of this post then you know the value of travel miles and points. I have had some wonderful upgrades using different hotels' frequent stay reward programs. The photo above from my balcony at the Hotel Grande Bretagne is a perfect example of how working your points can turn a regular hotel room into a once in a lifetime experience. By the way, in case you can't tell, that is the Acropolis in the background. Yes, definitely a sweet suite!
Then there are the airline miles and the car rental points to keep up with too. So how in the world do you manage all of these points and miles? Well, if you are a certified mile maven then you're going to love this website tip, the USA Today MileTracker. Yes, I mentioned this a while back in a post called Balancing Act but there are some great updates coming soon to the program that warrant a re-post.
First let's start with the basics, USA Today Online has a great desktop tool that stores all of your hotel and airline account numbers/account names and passwords. No more searching and surfing and forgetting passwords. You can set up just your accounts or the account numbers for you and all of your family members. Now, here is the new part.
Be on the lookout for the launch of the new WEB-BASED version of MileTracker. This new version will allow you to check your miles and points from any computer with Internet access. You won't even need to re-enter your account information if you are a current MileTracker user. So, keep an eye on the USA Today MileTracker site for this exciting new update.
The World Wide Will 
keep looking »