Posted on May 13, 2013
Filed Under Andrew Harper, General | Comments Off

Andrew Harper's Free Download

Dear MedjetAssist Members,
Please enjoy a complimentary issue of Andrew Harper's Hideaway Report focusing on two classic summer destinations: Maine and the French Alps.
When the snowfields have been replaced by flower-strewn meadows, the Haute-Savoie region of France is one of my favorite destinations, with enchanting small hotels and an increasing number of restaurants serving delicious and distinctive cuisine. The second piece recounts a recent summer journey along the rugged and scenic coast of Maine.
Download the complete Summer Escapes Hideaway Report issue to read more.
Enjoy!
Best regards,
Andrew Harper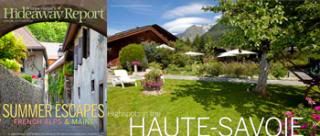 Posted on April 30, 2013
Filed Under General, Peter Greenberg Travel Safety Tips | Comments Off

Unfriendliest Countries
Medjet Travel Assistance Tip – It is often argued that travel and tourism is a powerful force to knock down barriers, build trust and promote peace and understanding. But first, it might be useful to know which countries are the most challenging when it comes to the "welcoming" factor. The World Economic Forum (WEF) now ranks 140 countries by how friendly—and unfriendly—they are to incoming tourists.
While there are always other ways to measure a country's popularity, such as infrastructure, cultural resources, safety and security, the one factor that continues to resonate with the WEF and travelers alike is the local population's attitude toward foreign visitors.
The worst offender? Bolivia, followed by Venezuela. The most welcoming countries were Iceland, New Zealand and Morocco. What about the U.S? Not exactly a flag-waving moment of celebration: according to the WEF, the United States only placed 102 out of 140 in terms of "welcoming."
The "friendliness factor" was just one piece of a much larger puzzle, and used a ranking of 1 to 7, with the lowest meaning "very unwelcome."
OK, so much for the numbers and the rankings. What really counts is what is in your own travel experiences. There's simply no way you can describe an entire nation in one blanket term. I've been to Bolivia and Venezuela and had an incredible time with the locals every time. On one trip I had someone in New Zealand who was rude to me. Does that drop the entire country off the top of the list? Hardly.
However, America's position in 102nd place should be a wake up call to our government, especially in terms of where our visitors first have contact with our country: customs and immigration.
I experienced the problem first hand when I came in from Tokyo, landing in Los Angeles. American Airlines used to have their own international traveler processing facility, but this time they had closed the terminal to incoming passengers. After an 11-hour flight, we were shepherded over half a mile to the Tom Bradley customs area. Once we got there, we were stuck behind an Airbus 380 from Korean Airlines. It was madness and to make matters worse there were hundreds of people in front of us. It's understandable that it takes time to process two full planes. However, there are about 68 different inspection stations for Customs and Border Protection at Tom Bradley International and only 22 were staffed–that's less than a third.
Foreign passengers were waiting up to two and a half hours! You don't need a World Economic Forum study to determine that this is unacceptable. And the impact of that "greeting" to our foreign visitors has had a substantial impact on lost opportunities, jobs, revenues and relationships..
We've had a lost decade of visitors because we weren't perceived as, nor were we, welcoming. That lost decade translates to millions of jobs lost in our country.
And let's not forget the often harsh concept of reciprocity. For example, consider Argentina. For an American tourist visiting this beautiful South American country, it now requires a $131 payment to enter. Why? because that is what the U.S. charges Argentinians to enter the U.S. This is an unacceptable barrier to entry.
But there is some good news: a year ago, the average wait time for a Chinese, Russian, Indian or Brazilian citizen to get a visa to visit the U.S. was a ridiculous 160 days. Many, if not most prospective tourists and business travelers simply gave up trying to come here. Then, the U.S. State Department realized the economic impact of all of this. They reassigned consular affairs officers to staff the problem and now, the average wait time for a U.S. visa has dropped to just two days.
Now, if we can only welcome these visitors when they get off the plane!
Posted on April 24, 2013
Filed Under General, Guest Contributors, Travel | Comments Off
Set deep in the jungle of Chiapas, Mexico, Palenque is one of the most impressive Mayan ruins, with temples dating back to 100 BC.
I was 15 years old when I first felt the rush of discovering an ancient artifact. I had joined the University of Alabama's Museum Expedition – a hands-on archaeology dig to find the trail of explorer Hernando de Soto. On a sweltering summer day, I kneeled over a pit of red earth, and with the tip of my trowel peeled up a triangular shard from a smashed pot. I held the muddy thing in my palm, and it was beautiful. No, it wasn't exactly gold from Tutankhamen's tomb, but it felt electric to unearth a possible clue to the past.
At the age of 40, I felt the same rush as I passed through the tree line of a Mexican jungle to see the vast green fields and massive temples of Palenque, a Maya ruin dating back to 100 BC. A light mist fell as I gazed at the sprawling village of stone structures surrounded by a thick curtain of trees. Though I was following in the footsteps of thousands of tourists who visit this ruin each year, it felt to me like a fresh discovery – as if I were one of the Spanish explorers that encountered Palenque in the 1700s.
Palenque felt new in part because the ruins are tucked away in the foothills of the Tumbalá Mountains, in the state of Chiapas. The towering rainforest canopy lords over even the tallest structure, the Temple of the Inscriptions, which rises 66 feet. Encircling the entire Palenque compound is a seemingly impenetrable wall of dense brush and massive mahogany trees.
As I walked farther across Palenque's main plaza, my sense of discovery waned a bit as I passed locals peddling souvenirs laid out on bright blankets. They can give the place a bit of a touristy feel, but that quickly disappeared as I climbed the steep steps of the Temple of the Inscriptions to view hieroglyphs etched into rock panels around 692 A.D.
A wonderful aspect of Palenque is that visitors are afforded great access to the ruins, and there are very few boundaries blocking you from touching and feeling things forged centuries ago. The structures at Palenque house a great number of etchings and inscriptions that record details about rituals, important events, daily life and the succession of rulers. Ever since 1952, when Mexican archaeologist Alberto Ruz Lhuillier found the burial tomb of ruler Pakal the Great in the Temple of Inscriptions, Palenque has been one of the most studied archaeological sites in North and South America.
As I climbed the steps of the ruin's main Palace – a sprawling complex of stone buildings, hallways and courtyards – I paused to study a carving of the Maize god. From my Palace perch, I looked back over my shoulder to see the forested plain below and imagined it dotted with fields of corn – the staple crop of the Maya people. I could also imagine other rituals that took place where I stood, including human sacrifice. Our guide explained that individuals chosen to move on to paradise first had their bodies cleaned in a steam bath. Fortunately, they were then given alcohol and other mind-altering substances so they would be unconscious before their heart was removed and consumed in front of a massive crowd below. As I tried to envision the scene, a breeze blew up, and I felt a shiver run down my spine.
I continued through the Palace, ducking into the dark corridors that once served as steam baths fed by the five streams flowing around the Palenque compound.  Pale light filtered into other dark hallways that held large stone slabs. These platforms once served as beds for Mayan royalty, and I wondered if these cool chambers provided some relief from the balmy conditions outside. I stepped out to stand atop a stone ledge and studied the surrounding forest. In the near distance, I could see a hill poking up like a knot on the landscape, and a tour guide said it was likely another structure not yet excavated. Remarkably, only about 10 percent of the suspected ruins have been unearthed, and there might be a thousand temples and other structures lying hidden in the jungle.
No one is sure why, but around 800 A.D., the Mayans abandoned Palenque and migrated to the Yucatan Peninsula. The general consensus is that Palenque was sacked in the 700s and lost its position as a seat of power. By the time the Spanish arrived in the area in the 16th century, the Mayans were long gone.
Since the 1950s, many teams of anthropologists and archaeologists have ventured to this place to study the Mayan culture. And, yet, despite the passage of time, there are still things here left to be discovered.
I thought about that as I shouldered my daypack to descend the Palace steps. And when I hopped down to the first stone, I felt like I was 15 all over again.
Traveler's Notebook:
Getting there: The best way to access Palenque is via the Villahermosa airport, which is about a 2-hour drive from Palenque. Many people recommend staying in the village of El Panachan, which lies near the entrance to Palenque National Park. El Panchan is not only much closer than the actual town of Palenque, but can also be more affordable. A favorite spot to stay is Margarita and Ed's. You'll find more info on transportation and lodging at www.palenquepark.com and www.travelchiapas.com.
When to visit: Since Palenque lies in a rainforest, it rains year-round. But a good time to visit is during the dry season, from November to April. It's probably best to avoid visiting during the rainy season, from June through August.
Essential gear: The mosquitoes can chew you up any time you're near the jungle, so bring a good repellent. (Click here to read our story on choosing a repellent). Also, you're likely to encounter rain, so carry a light rain jacket or poncho, plus a daypack or other gear to keep your camera protected from moisture.
Souvenirs: At the parking areas for Palenque National Park, locals have set up a bustling hamlet of shops. You might want to bring a little extra money to purchase souvenirs, or get a glass of freshly squeezed orange juice.
Veteran journalists Wendy Geister and Marcus Woolf launched The Adventure Post to share their passion for travel and outdoor adventure. They chronicle their journeys to inspire others to explore and provide insider tips that steer people toward richer travel experiences. The Adventure Post also includes contributions from other experienced travelers, as well as detailed gear reviews and reports on trends in outdoor recreation and adventure travel.

Posted on March 1, 2013
Filed Under Andrew Harper, General | Comments Off
The Andrew Harper

2013 Grand Award Winners
Andrew Harper's Hideaway Report has named Awasi resort, Chile, as the 2013 Hideaway of the Year. This is the first time a property in South America has received this prestigious award.
The complete list of 2013 Grand Award Winners, as well as a number of Special Recognition Awards (Best Spa, Best Pool, Best Bar, etc.) is featured in our complimentary January Hideaway Report.  In addition to the much-anticipated list of Grand Award winners, this 100-page, full-color issue contains the following feature stories:
• 2013 Hideaway of the Year
• Special Recognition Awards
• 2013 Restaurants of the Year
• Favorite Wines
• Last Year's Disappointments
• Indelible Memories of 2012
Download your complimentary copy today!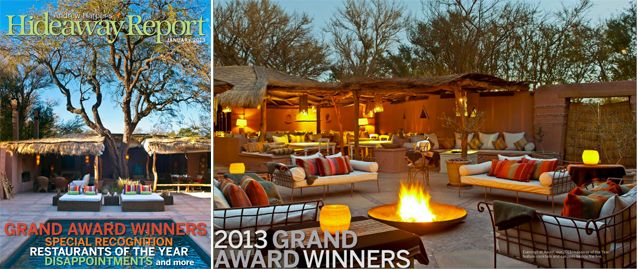 Posted on February 27, 2013
Filed Under General, Peter Greenberg Travel Safety Tips | Comments Off

Will Recent History Stop Me from Cruising?

Medjet Travel Assistance Tip – When news struck that a Carnival ship was stranded in the middle of the ocean, days away from land, a debate got heated on my Facebook page.
"I would never go on a cruise" wrote one PR executive.
"I just completed my 35th cruise. So to say one will never cruise after hearing this is crazy," responded another.
One person suggested, "I think it's better to avoid the mega ships."
There's no doubt, the deteriorating conditions on the Carnival Triumph were outrageous:  no electricity, few working bathrooms, stifling heat, and limited food.
But let's talk about the facts: Cruising remains an incredibly safe operation. In 2011, 20 million global passengers took a cruise. And with very few exceptions, notably the Costa Concordia tragedy a little more than a year ago, there have been remarkably few fatalities on cruise ships.
The most terrifying thing that can happen on a cruise ship is an onboard fire, and that's what happened on the Carnival Triumph. A fire broke out in the engine room. But today's modern cruise ships are equipped with great fire detection and suppression systems. Water-tight doors were immediately closed, the ship's air conditioning and ventilation systems shut down, and then the fire suppression system went into action, flooding the entire engine room with chemicals designed to inert the oxygen and starve the fire.
But when the fire suppression flooded the engine room and starved the fire, it also knocked out everything that operates on fuel (i.e. engines, generators). Translation: The ship was dead in the water…floating, with minimal electrical power. Conditions went from good to worse very quickly.
This became an inevitable PR nightmare for Carnival and there are some very angry passengers with lawyers by their sides. But the facts remain: an engine room fire that could have been catastrophic was quickly extinguished, and no lives were lost.
Can cruising be made safer? Absolutely. Increased safety and cross-training of crew, mandatory dual language requirements, and better waste management systems, will go a long way in improving cruise safety and the health of passengers on board. Sometimes it takes a bad situation to make necessary changes: almost immediately after the Costa Concordia tragedy, several cruise lines began requiring that muster (life boat) drills take place before the ship leaves port.
Will this type of situation stop me from cruising? Absolutely not. There are risks to any type of travel and once in a while, a crisis breaks out that makes a lot of people question whether it's worth it. But the numbers—and common sense—are definitely on your side here. I'm not a cheerleader for the cruise industry. I'm just rooting for the facts. So…happy cruising!
keep looking »