Travel Blog
Posted on October 10, 2013
Filed Under General | Comments Off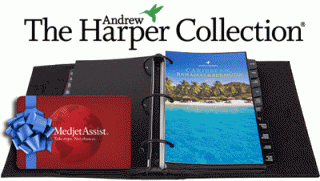 For the first time ever, Hanukkah and Thanksgiving fall on the same day this year, November 28th. Considering it won't happen again for another 77,798 years when I say this is your only shot at giving the perfect Thanksgivukkah gift, I really mean it. Andrew Harper is offering their renowned travel book, The Harper Collection, for the first time outside of their own community. This is a great chance to get a special look at a perk that, up until now, is only offered to Harper members. This book is the ultimate resource for travel and, as with any great offer like this, availability is limited. Very limited. Harper is only releasing 100 of these beautiful books to non-members.
With more than 700 beautiful pages covering 23 regions and more than 1,000 properties worldwide, the Harper Collection is the perfect gift for seasoned travelers and armchair travelers alike. At $150, the price is right too. Seriously,if you don't make an impression this Thanksgivukkah you are not going to get another chance.
Speaking of making a once-in-a-lifetime impression, nothing pairs better with travel than a MedjetAssist membership. I mean, you can't in good conscience send people off traveling the world without the peace-of-mind of knowing there is a Plan B if a medical mishap interrupts the trip. As a MedjetAssist member, if your traveler becomes ill or injured more than 150 miles from home Medjet will, for no additional costs,  arrange medical transfer back to the hospital of choice in their home country. This membership really is the gift that keeps on giving since the minimum required travel distance is only 150 miles from home. And, here is the great news, Medjet is offering special Thanksgivukkah pricing on their annual memberships. The discounted annual rates are just $245 for individual memberships (normally $260) and $375 for family memberships (normally $395). These great rates are Internet only though so you have to click here to get them.
Now are you ready to start giving the ultimate gift(s)? If so, you had better hurry. Remember there are only 100 Harper Collections being released. Like they say on TV, "Take advantage of these special offers and order today!"
ANDREW HARPER'S THE HARPER COLLECTION : CLICK HERE
MEDJET'S THANKSGIVUKKAH INTERNET OFFER : CLICK HERE
Posted on October 1, 2013
Filed Under General | Comments Off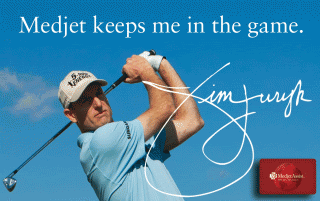 By: Roy Berger, MedjetAssist President/CEO
Long ago I came to grips with the realization I would never play golf for a living. When you are the second best golfer in a two-person household, playing on the professional tour isn't even a fantasy. The stark reality is, you better find another career.
However over the past two years I've played in 42 events on the PGA Tour. Vicariously.
Ever since we signed Jim Furyk to a MedjetAssist endorsement agreement in January 2012, PGA  tournaments have a different spin to me. Now I have a vested interest. You want to see your guy do well, which helps not only validate the partnership choice but also your brand.
Medjet had been looking for a national spokesperson for many years. We did some sector endorsements in the travel and hunting arenas in the past but never had the national person in place because we could never find the right fit.  Until the fall of 2011.
In conversation with Medjet Managing Partner Harold Ripps, we spoke about taking the company in a new advertising/marketing direction at the first of the year. We decided golf was a good demographic fit with our membership model, especially our leisure travelers, as golf tends to attract an upscale and mobile fan and participant base, very similar to what our internal studies have shown to be our membership stronghold.
One morning at breakfast with Mr. Ripps and Medjet Director Mike Hallman, we started bandying about some names of golfers we thought might make a good spokesperson. Every time someone mentioned another name there was a reason to disqualify them: too young, too old, background less than stellar and then one bogey after another at each name.  Until Ripps suggested Jim Furyk.
We all looked at each other and nobody could come up with a reason not to pursue Furyk.  He had everything we were looking for in an endorser: a proven record on the golf course; winner of the 2003 US Open and 15 other PGA events; family man and advancing in PGA age (though only 41 at the time) where travel protection to return back to physician and family circle for a guy that travels the world would be paramount.
That morning I grabbed Medjet Senior Sales Director Thomas Brooks, who not only is our organization's best golfer but a golf 'lifeline' in the time of need, told him what we were thinking and asked him to vet Mr. Furyk for us.  It was a task Thomas readily accepted.
He did his research and reached out to Furyk's agent, Andrew Witlieb with Legacy Agency in New York, to see if Furyk was not only available but if he had interest in Medjet. The timing for us was perfect as November and December are good months to get quick response from PGA golfers as that's their off-season.
A couple of days passed and Witlieb contacted Brooks; said Furyk had done his due diligence on Medjet and likes the concept and the company.  Neither Brooks nor myself have ever structured one of these deals and were at the point where we were soon to find out if this was something that might fit into our budget or bust it.
We quickly found out a logo endorsement deal- Furyk wearing the Medjet logo on his shirt or hat- was out of our price range.  That particular real estate is costly.  However the conversation turned into an endorsement arrangement where we would use Furyk's likeness over all platforms of our advertising- print, electronic, consumer direct and the internet.  We were very pleasantly surprised at the economics and the speed of the negotiations.
So now in January 2012, we had a 16 time PGA Tour winner and former US Open Champion representing our brand and had to figure out swiftly what to do with him.  Our creative marketing team of Will McKee and Jennifer Tidmore went to work and devised different strategies which we forwarded to Furyk and Witlieb. Within days we were converting a hotel suite near Jacksonville, Fla. into a production studio to get our broadcast and print shots and sound bites with Jim and his wife, Tabitha.   Furyk made his Medjet spokesperson debut with a series of magazine ads and TV commercials on The Golf Channel only a few weeks later, right before the Masters.
The relationship is now concluding its initial two year run and both sides have agreed to renew for another.  From our standpoint he is everything we thought he would be and more with grace, ethics and respect topping the list.
I've had an opportunity to dine with Jim on multiple occasions, have been to his home and he has visited our offices in Birmingham, Ala. always wanting to know how business is going and is there "anything I can do to help."  He's not a 'take the check and run' type of guy- he has gone above, beyond and out of the box for us on opportunities the past couple of years.
So when he gets to the 16th hole at The Olympic Club on June 18, 2012 with the US Open lead and puts a tee shot into the woods; or fails to convert a chip shot for victory at The Bridgestone some weeks later; or as recently as this past August took a one stroke lead into the final round of the PGA Championship only to play his heart out and fall short, it hurt me like it's my personal round.
Everyone of those losses, especially the two in 2012, were potentially crushing blows for a golfer on the back nine of his career.  After each of those losses Furyk's class and poise made everyone forget what just happened. I hurt for him but it seemed like my hurt was more painful than his.  I know that's not the case but that's the way he made it seem.
Then Jim goes and puts that all behind him by shooting a 59 – the lowest PGA Tour round on record- on September 13, 2013 in Chicago during the BMW Championship. If there was any doubt about his Hall of Fame credentials, that round cinched his place among the greats.
You don't have to win every Sunday to be a winner. Jim Furyk proves that every week.
Posted on September 30, 2013
Filed Under General | Comments Off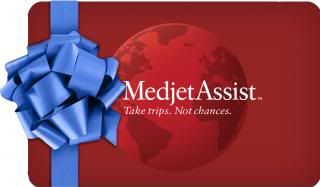 'Tis the season to visit (or escape) loved ones. Yes, the holidays are quickly approaching. According to the Bureau of Travel Statistics (BTS) the Thanksgiving and Christmas/New Year's holiday periods are among the busiest long-distance travel periods of the year. During the six-day Thanksgiving travel period, the number of long-distance trips increases by 54 percent, and during the Christmas/New Year's Holiday period the number rises by 23%, compared to the average number for the remainder of the year.
Don't let an unexpected medical emergency leave you stranded. Make sure you travel with the peace-of-mind that a Medjet membership offers. A Medjet membership will help protect you from the unexpected whenever you are traveling more than 150 miles from home. Don't leave on your next trip without this priceless peace of mind. Visit Medjet.com and add Medjet to your itinerary.
If you are an existing Medjet member, there is a great gift promotion just for you. It's Medjet's way of saying thanks for being a member of the family.
Give some peace-of-mind to your favorite savvy traveler and you will receive a little something in return. A free Medjet Medical Kit to be exact.
This medical kit is designed to cover your basic medical needs when you travel and includes essential first-aid supplies and common medications for routine, simple illnesses.
A $40 value that is yours FREE when you purchase a NEW annual Medjet membership for someone else as a holiday gift. Call toll-free 1-877-296-1570 to speak with one of our membership service representatives about this offer. Mention promotional code HG13 to make sure you get your free gift.
Offer expires 12/31/13 and is valid with standard rates only. You must be an existing Medjet member to qualify. Free offer only applies to NEW annual memberships purchased as gifts. Gift membership must be new; this offer does not apply to renewals of existing memberships. Cannot be combined with other offers.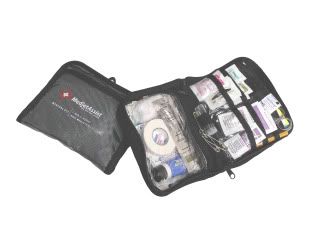 Posted on September 27, 2013
Filed Under General, Guest Contributors | Comments Off
Packing means deciding what not to take on a trip as much as what to take. Some packing pointers listed below are safety-related, others simply aimed at keeping you from paying the airline for overweight baggage or hurting your back lifting the stuff.
• First, if you can't afford to lose something for financial or sentimental reasons, leave it home. Rather than carry a laptop for e-mail, you could carry a handheld device you can hide easily. Take faux jewelry, not the real thing. Also, leave the fanny pack home; it can make you a target because it signals you are a tourist.
• But do travel with some food; include energy bars.
• Travel with Xeroxes of the inside front pages of your passport, other travel documents and your drivers license. And carry your doctors' contact information and a list of your medications and allergies. Also, leave copies of documents and the itinerary with someone at home.
Then, put all these documents and meds in your carry-on bag, not the checked luggage.
As for all other items, this is what I do. Eons ago, I created a master packing list.
It is way too easy to forget the simplest things when packing for a trip. Like sunglasses, for instance. Or the umbrella. Or a swimsuit.
To avoid these annoyances, I suggest you prepare a personalized master packing list, which may not look a bit like mine. A master list works like this: You make a list of absolutely everything you ever took on a trip or might ever need to take, and then put this list where you can find it when packing.
Reading the list forces you to consider whether or not to pack each listed item. That's how you can thoughtfully eliminate excess items as well as ensure you remember the essentials.
You cannot make the trip without some items. They include some or all of the following: cash and travelers checks; the currency of your destination; the form of identification appropriate to the trip such as passport, visa and/or drivers license; credit cards; travel documents; travel insurance papers; health certificates for some overseas trips; vital telephone numbers relevant to the trip; spare eyeglasses; prescription sunglasses; prescription drugs or other meds as needed.
Also, I recently added the MedjetAssist card to my master list. I learned from a colleague's experience what it can mean — his membership fee covered the costs of emergency transportation home from Peru after he was injured in a fall. The card has the phone numbers you or a medical person would use if the service is ever needed.
For a business trip, the essentials may also include a laptop, business cards, pens, cell phone, notebooks and any printed materials, goods or gifts related to the trip's purpose.
For a leisure trip, the cell phone may be just as important, but other essentials, depending on what makes a trip complete for you, might include favorite electronic toys, a camera, film if you still use it, memory cards for a digital camera, spare camera battery or batteries, gear to recharge batteries including travel plugs for overseas electrical outlets, voltage adapter (not needed for some devices such as laptops and battery rechargers), travel alarm, travel journal.
When flying, most of the essentials will go into your carry-on, but not toiletries unless they meet airport security standards, and those can vary quite a bit around the world.
Bear in mind you will have to show a photo ID to board an airplane even if traveling domestically, and your name as it appears on the ID must match the name on your air ticket.
Consider wearing your best outfit on the airplane, and tuck a toothbrush and a couple of tide-you-over items of clothing in the carry-on just in case the checked bags don't take the same trip you do. I was without my suitcase for a week on a Nile River cruise — and very glad I had a spare outfit, plus all camera equipment, with me.
As to checked bags, all airlines place limits on the size, weight and number of items they will transport per passenger without assessing extra charges for weight. These limits, generally 50 pounds or 70 pounds per piece, can even vary on the same airline depending whether the flight is domestic or international.
If you are not traveling by air, you still must protect documents and valuables. On a train, for example, you may be leaving a larger bag in an open-sided storage area, accessible to all. Take the valuables to your seat.
Nadine Godwin is a contributor to the trade newspaper, Travel Weekly; editorial director for  BestTripChoices.com, and author of  "Travia: The Ultimate Book of Travel Trivia." The book can be purchased at http://intrepidtraveler.com/travia-release/
Posted on September 19, 2013
Filed Under General, Travel Alerts -- From www.travel.state.gov | Comments Off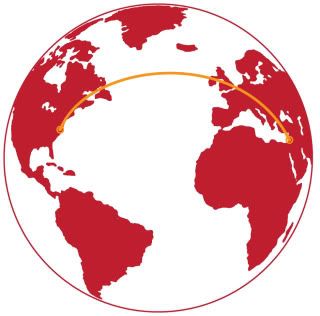 By: John Gobbels
MedjetAssist VP/COO
When we used to travel internationally, before the age of mobile phones and easy email access, we used to register with the U.S. Embassy in each country we would visit. The idea was to let the American Embassy know of your presence in the area just in case there were any problems, either with the traveler or with the country.
The old system of registering with embassies or travel registration, as it was also known, has been replaced by something new called the Smart Traveler Enrollment Program or "STEP." The program is free and operated by the United States Department of State as one of the many travel services they offer.
Many travelers are aware of the country-specific warnings the government issues, but this program will deliver any appropriate warnings to your email address in real time. Instead of just checking in advance, now travelers can be alerted to problems during their trip.
Signing up for the program is easy and travelers can then receive detailed information about their destination country. Travelers also receive any updates, including Travel Warnings and Travel Alerts which are essential news updates and warnings provided by the U.S. government about specific destinations. These warnings and alerts can help us avoid problem countries and areas and are essential for international travel.
In addition to receiving warnings, the STEP system allows government authorities to contact and assist travelers in emergencies, political violence and natural disasters, should any of them strike. The system can be used to make communication easier with family back home in emergency situations.
Once enrolled in the system, travelers can then add and remove individual trips from their personal accounts, so the system always reflects the current, real itinerary. The system should be used by travelers, who can enter their travel itinerary and hotel information, and also Americans living abroad, who can supply their foreign address. The sign-up is done online on the State Department website and takes only minutes. The information collected is protected by government privacy laws and can only be used for travel-related purposes.